Your driveway is one of the first things people see when they visit your home, and you want it to make a good impression. But if your driveway is cracked and damaged, it can be an eyesore.
Replacing your driveway with a new asphalt driveway is a great way to improve the look of your home and increase its value. Read further to learn more about the asphalt repair process from Pro Paving.
Why You Should Consider Residential Paving (Driveway)

1. Improves Curb Appeal
One of the main reasons to pave your driveway is to improve your home's curb appeal. A new driveway will make your home look more inviting and welcoming to guests.

2. Increases Home Value
Finding professional parking lot or driveway pavers is one of the ways you can increase the value of your home. If you ever decide to sell your home, a new driveway will be a selling point for potential buyers.

3. Provides Safety
Your driveway is a part of the house that will usually see foot traffic. If it is cracked and damaged, it can pose a safety hazard to you and your family. A new asphalt driveway will provide a safe surface for you to walk on.

4. Requires Low Maintenance
Once your driveway is installed, it will require very little maintenance. You will only need to sweep it occasionally to keep it clean.

5. Lasts Longer
If your concrete is cracking, the cracking will only get worse and shorten the lifespan of the driveway. However, a new driveway will last you longer than a repaired one. Asphalt driveways are durable and can last for many years.
Why Is Asphalt a Good Choice for Your Driveway?

Asphalt is a popular choice for driveways because it is durable and long-lasting. It can also withstand extreme weather conditions and is low maintenance.

While you can also use concrete, asphalt is a better choice for driveways because it is less likely to crack. It is also easier to repair if it does sustain any damage. The aesthetic appeal is worth the investment.

Replacing concrete with asphalt also has environmental benefits. Asphalt is made from recycled materials, so it is a more sustainable choice.

How To Choose the Right Driveway Pavers

When you are ready to install a new driveway, get multiple quotes from different contractors before making a decision. Be sure to ask each contractor about their experience, rates, and services.

You should also read online reviews to get an idea of what others have thought about the contractor's work. Request photos of their asphalt work.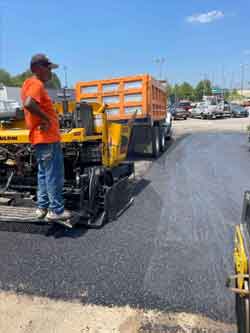 Asphalt Is Great for Residential Paving
In conclusion, replacing a concrete driveway with an asphalt one is a great way to improve your home's curb appeal. Asphalt is a durable and long-lasting material that can withstand extreme weather conditions. It is also low maintenance, easy to repair, and better for the environment.
When you are ready to install a new driveway, research professional driveway pavers with experience with asphalt driveways to meet your needs.