A quality parking lot is important for any property owner or manager as it can ensure that all people have a safe place to park their vehicles without having to worry about damage due to potholes, poor striping, and other issues. Quality driveway paving or parking lot update can also help improve any property's curb appeal. Due to its importance, working with a professional parking lot repair and striping contractor is very important. These companies can offer various services to help protect your parking lot and keep your business looking its best, drawing in potential customers.
Parking Lot Paving and (Seal Coating)

One service that you can receive is seal coating. If you have a parking lot that is generally in good condition but is starting to show cracks and signs of wear and tear, bringing in a contractor for professional parking lot paving services is a good option. When your parking lot is paved or seal-coated, the professionals will apply an additional layer on top of the lot. This can help to fill in cracks and potholes and improve its appearance. It can also help to slow further deterioration of your parking lot.

Complete Overlay

If your parking lot has not been replaced in a while and has serious signs of wear and tear, you may require a complete overlay. With a complete overlay, the contractors will actually remove the existing parking lot and then replace it with a new lot. This could be made of asphalt or concrete. They then will complete any necessary striping to help it look its best.
Parking Lot Striping/Line Painting

Another service that you will need to do at some point is parking lot striping and painting. Having a parking lot that is properly striped is very important as it will help to identify the right parking spaces and can assist in the control of traffic. If your parking lot is starting to look worn and the paint is slowly going away, having a professional provide a new striping and painting service can be beneficial as they will be able to repaint or stripe your lot.

Ongoing Care

A professional parking lot repair contractor can also offer various services to ensure your lot looks its best. Pros can offer guidance and support on how to care for your lot. This includes tips for cleaning, making minor repairs, and ensuring your lot remains in good condition and lasts a long time without the need for repair.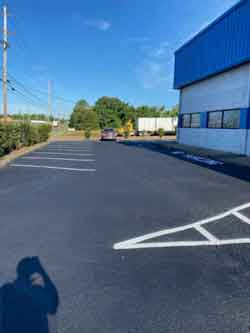 Contact Pro Paving today
Those looking for support with their parking lot in the Memphis, TN area should contact Pro Paving today. These asphalt repair and paving professionals can offer a variety of parking lot services that will help ensure your lot continues to look its best. When you call Pro Paving, they will come to your property and provide a full evaluation and consultation. Their team can then offer any repair, striping, or other lot care services needed to keep your lot in great condition.