Have you recently bought a business and need to install a parking lot? Is your business expanding, and you need to make room for additional parking or expand your current parking lot? Installing commercial paving (parking lots) is a big job, but fortunately, that is why Pro Paving is here.
As an asphalt paving company serving the Memphis, TN area, we have the experience, expertise, and resources to get the job done. So if you have a big job or small job, we can help with professional parking lot services.
Commercial Parking Lot Repair

The weather is unpredictable, and it is also a primary culprit behind needing commercial parking lot repair services. Weather alone, however, is not the only reason parking lots wear, become damaged, and need repair.

Simple wear and tear on parking lots will create issues over time. From heavy vehicles to constant traffic, parking lots and pavement are asked to withstand constant pressures. That eventually means repairs or a parking lot replacement.

Family-Owned Commercial Paving Services

Installing a parking lot is hot and dangerous work. It also requires the right equipment, expertise, and experience. The good news is that companies like Pro Paving are available and ready to work.

Commercial parking lots also speak volumes about a business. In addition to boosting the image of a business, good parking lots can also prevent the potential risk of lawsuits. Having a well-maintained parking lot isn't only good for business; it just makes good sense.

From commercial parking lot repair to commercial paving services, it is important to work with reputable and professional paving companies. If you are seeking commercial paving services, look no further than Pro Paving.
Refinishing and Restriping Services

It doesn't matter how large and complex or how small and simple the job is, Pro Paving can handle it. With over two decades of experience in the asphalt paving industry, you can trust the job will get done right, on budget, and on time.

Like most companies, offering customers convenient parking and nice parking lots is a benefit. Fading or work striping can not only be an eyesore but also an inconvenience to patrons. At Pro Paving, companies can also get parking lots restriped or refinished.

In many cases, the structure and surface of a parking lot are solid. In these situations, a parking lot repair or new parking lot isn't always necessary. Refinishing services are an affordable option to restore the look and appearance of your parking lot.

Commercial Paving and Repair Services

Your business will look better because of it. Your customers will thank you for it. And your company will benefit from it. Those are just a few benefits of getting commercial paving and repair services for your business.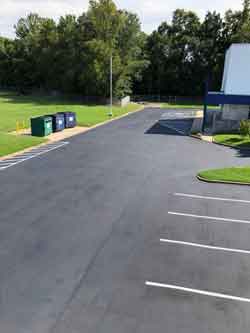 Contact Pro Paving Asphalt today
If you would like to learn more about commercial parking lot or residential driveway paving services, Pro Paving would like to talk to you. Contact us at Pro Paving to schedule a free estimate, and let us help to restore, repair, or install your parking lot.