True to our name, Pro Paving is capable of delivering complete asphalt services like driveway paving and asphalt sealcoating to residential and commercial customers alike. For an asphalt job done right, we're the only call you need to make! We're capable of providing your surfaces with a complete scope of services. Our abilities as asphalt and driveway pavers include:
Paving

We're equipped for new paving in Memphis, Nonconnah, Whitehaven, and Germantown, TN and pride ourselves in never cutting corners. We stand by our work with a quality guarantee and we promise results that speak for themselves.

Repair

Are potholes or deep cracks marring the surface of your asphalt? Call us for complete asphalt repair in Memphis, TN. We'll restore your surface's appeal and enhance its protection against the elements.
Sealcoating

Heavy sunlight and hard rain can do a number on asphalt. Through asphalt sealcoating in Memphis, TN, we're able to protect your surface against these elements, keeping it looking better for longer.

Crack filling

For all crack filling projects, we use a hot pour rubberized crack filler. This top of the line solution looks seamless and expands to fill the entirety of a crack, keeping moisture and debris out to preserve its integrity.
Parking Lot Maintenance
Don't let your parking lot develop potholes, cracks, gouges and standing water damages! Our parking lot maintenance services restore your lot's surface and protect it against the heavy wear it sees on a daily basis. We can patch holes, fill cracks and repave sections that are heavily damage—or, repave the entire thing if it needs it! You can also rely on us for striping and line painting, as well as asphalt sealcoating to protect it for years to come.
Commercial parking lot repair
Striping/Line painting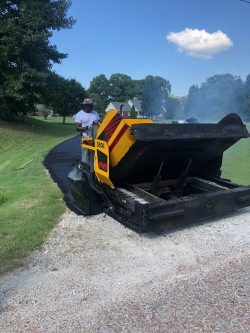 Residential Driveway Paving
Have a gravel driveway that needs to be paved over? Getting ready to replace your cracked and damaged concrete drive with a beautiful, well-laid asphalt one? Our capabilities as driveway pavers ensure we're delivering a pristine driveway paving job that looks great and stands up to the daily wear and tear you'll put it through. In addition, we offer gravel driveway spreading and can haul limestone directly to your worksite.
Reach Pro Paving today at (901) 214-8288 for more information about the asphalt repair and installation services we offer, as well as any of our parking lot maintenance capabilities. Our driveway pavers are able to provide free estimates on-site for your convenience.